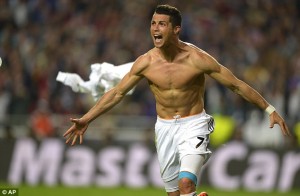 Our first research workshop took place with a group of six girls aged between 13-16 and what a boisterous occasion it turned out to be. All but one of the group are Muslim. Two researchers from the team ran the session and two support workers were present. Interest in football varied. Two of the group did not seem to have a strong interest but still had plenty to contribute in terms of how they perceive professional footballers. One participant plays a great deal, including training with one of the local professional clubs, and has an ambition to be a professional footballer by the time she is 21.
The group were shown images of players to enable a discussion about famous players and lead on to them discussing their favourites. The images were as follows:
1. Steph Houghton (Captain of England Women's Team and Manchester City)
2. Wayne Rooney (Captain of England Men's Team and Manchester United)
3. Billy Sharp (Sheffield United)
4. Lionel Messi (FC Barcelona)
5. Christiano Ronaldo (Real Madrid)
All the participants were aware that the workshop was connected to football and that we were interested on their views about various aspects of the game. The order of the images purposefully led from a high profile player in the women's game to her male equivalent followed by a player from the local side, finishing with arguably the two most high-profile global icons currently playing.
Some initial findings are worth highlighting and we will be picking up on some of the debates and issues that emerged in future sessions.
Steph Houghton was recognised as playing for England and Manchester City by the one participant who played a lot of football. None of the girls could name her and some participants clearly did not recognise her as a football player at all.
Nobody recognised Billy Sharp, Sheffield United's striker, despite the club being based less than a mile from where the girls live. When asked to name any United player, they pretty much all instantly shouted 'Ched Evans' – the former Sheffield United player who was convicted of rape in 2012 but became high profile news when he was released last year and there was much public debate, locally and nationally, about the club possibly re-signing him. Their opinions of this situation and the responsibilities of professional football players / clubs will be explored in further sessions.
Christiano Ronaldo created the largest interest. Two of the Muslim young women with less interest in football, seemed keen to express their admiration for Ronaldo's physique and 'cuteness'. Others voiced an interest in his 'charitable' acts that have been well publicised recently.
There seem to be two competing discourses that matter to these teenage Muslim girls that are both dominant within the public domain regarding Christiano Ronaldo, and possibly extends to other celebrity footballers. That of male football players as 'objects of desire' and that of celebrity altruism. The conflict is particularly stark if seen through the intersectionality of age, gender and religion.
For example, when a support worker, an adult female who plays recreational football with some of the participants, discussed her favourite player one of the girls immediately asked, 'Do you fancy him?' This question combined a mischievous desire to challenge an adult with whom their only connection is embodied in the act of playing football together with a reflexive response rooted in dominant heteronormative discourses of how women (are perceived to) gaze upon male celebrity. The girls were somewhat aware of the conflict between this discourse and Islamic ideology as they reflected 'should we be looking at half dressed men?' and giggling – thus marking the fact that they were aware his appearance made sense in the context of it being a picture of him in action on the pitch but that we were looking at it here and now in a different (and not totally defined) context.
The girls then sought other values through which they may find Ronaldo worthy of their admiration. This emerged through highlighting Ronaldo's charitable work, which has been well publicised in recent weeks but is no greater than many other professional footballers. This may be particularly significant for this group because Zakat or charity is the third pillar of Islam and an important teaching in the Quran. What is of most interest is why Ronaldo's work of this kind is of more significance than others.
Interestingly as we discussed other favourite footballers, one of the researchers brought up an image of their favourite player, Zlatan Ibrahimovic. One of the participants instantly recognised him and informed us that he was Muslim. She went on to name a number of other Muslim players. For her, this was important because she felt that there was still a lot of prejudice against Muslims and that increasing numbers of high profile footballers who were also Muslim would make such an identity more acceptable amongst the wider population.
Another key aspect of how this particular group consume football relates to the merchandise and iconography associated with the sport. When questioned about what football related paraphernalia they have, one participant primarily focussed on the kit she had – boots, shin pads, etc. She had some other football club items too but no posters of players. Such posters would not fit within how she practices her religion. These are certainly issues to be taken up in further workshops.